100% digital
supply chain visibility

Immediate cost savings*

SCF wrap-around
Simply ask your suppliers to use our secure platform. Each time a supplier ships they upload and self-digitise all their paperwork (BL, AWB, CMR, packing lists, invoices, certificates, reports, supply chain maps etc). You get amazing, integrated, structured data with minimal effort - our dashboards show you the whole of your supply chain in action, as it happens: all countries, carriers, forwarders, suppliers, products etc.
​
Our platform can be used standalone or on a wrap-around basis to extend supply chain finance to all suppliers (including long tail), increasing the effectiveness of existing SCF programs by 50%+.
Cost savings and quick wins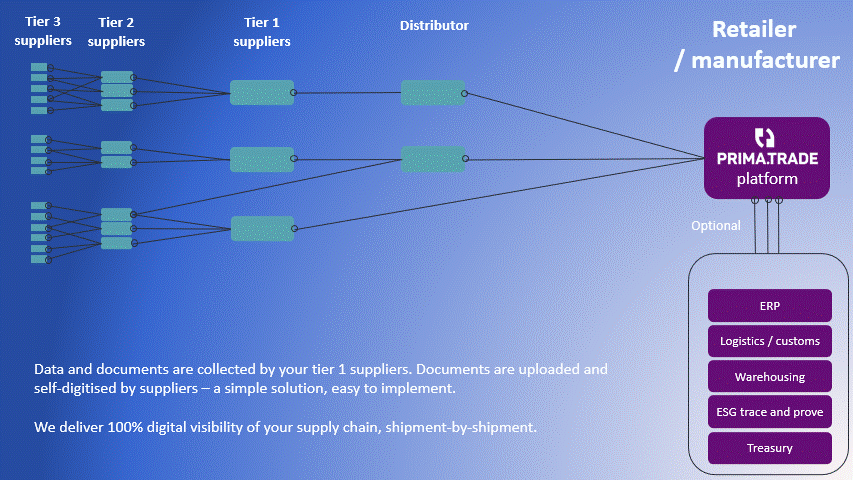 Any corporate wanting 100% digital visibility on its supply chain, shipment-by-shipment, all documents involved.
​
Our platform collects the data and documents directly from suppliers on 1000s of shipments for leading European retailers and importers each month. Suppliers self-digitise their documents at shipment and, via our working capital integrations, their invoices are quickly approved and they get paid at shipment.
​
See your supply chain!
Savings up to 1% or more on the cost of goods via safe, early payments to suppliers.
​
Meet new ESG and compliance requirements and evidence the source and credentials of products to customs, regulators and consumer.
Our platform is implemented over the top and can easily collect data and documents from the whole supply chain - we can just be switched on without an IT project.
​
Each time suppliers ship, they upload and self-digitise their invoices, transport documents, packing lists, ESG certificates, supply chain maps and inspection reports. The supplier does the work and the data is then used automatically to cross-match and cross-check the documents.
We can connect our real-time data (at shipment) to your internal systems in order to get your stock moving quicker and to streamline reporting and logistics.
​
If you provide your open POs to us, our unique 3-way match at shipment can drive AP automation, improve controls and reduce costs in finance and stock-handling .
Working capital is a major issue for buyers and suppliers alike and most supply chains are poorly supported by systems and processes. This leaves buyers without real-time data and suppliers waiting for payments.
​
Imagine a platform where suppliers ship on Monday, upload shipping, trade, ESG, and compliance documents on Tuesday and get paid on Wednesday - before goods arrive and before handing over control. This is what we deliver - with OCR/AI integration that delivers a high level of automation through our 3-way match at shipment.
​
Since data flows in from suppliers in real-time with minimum effort or resource from the buyer, pilots can be set up without upfront investment or IT involvement.
Our sister business, ES3G, provides scientific and authentic measures of worker conditions in supply chains - which can be linked natively to supplier finance costs in order to drive change.
​
We support document capture at product level on each shipment (defined by PO) allowing corporates to demand, receive and organise the paperwork needed to evidence ESG and sustainability claims on products. This is a native capability of our platform - available at scale for global supply chains in all industries.